More big changes are coming to WordPress 3.8 and are focused around the administration dashboard.  The latest list of features was announced at the contributor blog. The main changes to know about are:
An overhaul to the administration interface


Easier widgets layout in the administration interface


Omnisearch – a search feature that scours comments, content, and everything else in your site.  This is a feature already for JetPack plugin users, but is migrating to core (WordPress as it is when first installed).


A better browsing experience to finding themes


Making the Edit Post more closely resemble the way a post will look when published


New Twenty Fourteen theme – This is a magazine layout and the demo is available here: http://twentyfourteendemo.wordpress.com/ and if you're really ambitious, you can download the beta release at https://github.com/WordPress/WordPress/tree/master/wp-content/themes/twentyfourteen


WordPress 3.8 is due to ship December 12, 2013.  The faster update cycle is based upon a new way that the development team incorporates new features. They have restructured teams into developing plugins that can be incorporated into core and if they don't make the cut, they can still stand along in plugins. This new approach is leading to faster releases.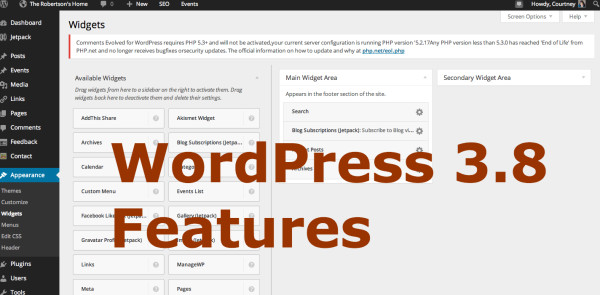 WordPress 3.8 Preview